Guns N' Roses: 10 curiosità sulla leggendaria band
Scopri dieci curiosità sul leggendario gruppo dei Guns N' Roses. Dà AXL che da un pugno a David Bowie o la band che deve andare ad un concerto solo via passaggi.


Ecco dieci curiosità riguardanti AXL Rose e la sua band, i Guns N' Roses.
Here's ten curiosity about AXL Rose and other members of Guns N'Roses


1- Nel video dei Guns N'Roses "Don't Cry" appare una donna che fa da psicoterapista ad AXL Rose. Quella era l'attuale psicoterapista di AXL, Suzzy London, che ha partecipato eccezionalmente al video.
In the video for Guns N' Roses' "Don't Cry," the woman who plays Axl's psychotherapist is his actual therapist, Suzzy London, who occasionally accompanied the band on the road.



2- Nel 1992 agli MTV Video Music Awards AXL Rose ha avuto una rissa con Kurt Cobain. Kurt accusava AXL di stare provando a portare a letto la sua fidanzata Courtney Love
At the 1992 MTV Music Video Awards, Axl got into a fight with Kurt Cobain and Courtney Love, fearing that Love was trying to possess him.



3- La canzone "Chinese Democracy" di AXL Rose è un tributo a John Lennon
The song "Chinese Democracy" was Axl's emotional tribute to John Lennon's death.



4- Al primo concerto dei Guns N' Roses a Los Angeles si sono presentate solamente due persone
At the first Guns N' Roses show in LA, only two people showed up to hear the band.



5- Nel 2006 durante un concerto a Stoccolma, Axl Rose e' stato arrestato per aver morso alla gamba una guardia della sicurezza.
In Stockholm in 2006, Axl was arrested for biting a security guard on the leg.



6- La copertina di "Appetite for Destruction" era all'inizio un dipinto di Robert Williams che mostrava un robot violentatore. I negozi però si rifiutarono di mettere in vendita l'album; così, la Geffen, ha sostituito il disegno con la famosa croce con i teschi che ritrae i membri della band.
The album art for Appetite for Destruction was originally a painting by the same name by Robert Williams, showing a robot rapist. When stores refused to stock the album, Geffen replaced the art with the famous skull cross depicting the band members.



7- AXL Rose è innamorato di Christina Aguilera, l'ha definita "Una delle migliori cantanti al giorno d'oggi". alla rivista inBlender.
Axl loves Christina Aguilera, proclaiming her "one of the greatest vocalists of our time" inBlender.



8- David Bowie visitò il set di "It's so Easy" ma durante le riprese AXL ha trovato Bowie a provarci con la sua fidanzata dell'epoca. Rose gli diede un pugno e lo fece sbattere fuori dal set.
When David Bowie visited the set of "It's So Easy," Axl found him flirting with then-girlfriend Erin Everly, punched Bowie, and threw him off the set.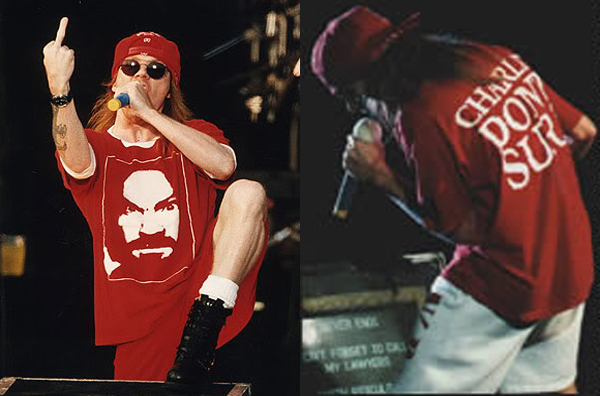 9-  La traccia nascosta "Look at your game, girl" presente in "Spaghetti Incident", è stata scritta da Charles Manson ed è stata inclusa nell'album a causa dell'insistenza di AXL Rose
The hidden track on GNR's The Spaghetti Incident, "Look at Your Game, Girl," was written by Charles Manson and included on the album at Rose's insistence.



10- Al primo show dei Guns N' Roses nel 1985, il bus della band si ruppe. La band continuò il viaggio chiedendo passaggi, ma arrivati nel luogo dello spettacolo, scoprirono che fu cancellato!
At GNR's first gig in Seattle in 1985, the band's bus broke down en route. They hitchhiked the rest of the way, only to find that the show had been canceled!